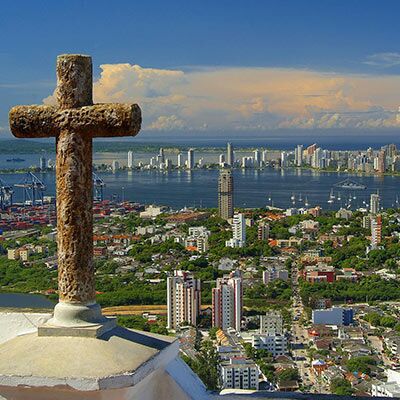 Moving to Colombia
---
Are you moving to Colombia? At Orlando International Moving you will find information that will help you become familiar with your new housing country. Colombia is one of the largest countries in South America, with a population of approximately 47 million inhabitants. People from other countries who visit or move to Colombia, are very welcome and treated like royalty. Colombia is a country where people are very friendly and hospitable, which makes one feel like at you our home country.
The climate in Colombia depends on the city where you move to. If you move to the coast for example to Cartagena, Barranquilla or Santa Marta, you will find much heat and humidity, with temperatures exceeding 80 degrees Fahrenheit. If you move to Bogotá or any city if the interior, you will find cold, gray days and lots of rain with temperatures between 40 and 60 degrees Fahrenheit. Medellín is a city with a more neutral and stable climate with temperatures ranging between 65 and 75 degrees Fahrenheit.
Colombia is a country rich in culture and natural landscapes. Colombians speak Spanish very well since they have almost no accent and speak it slowly. The most recognized thing worldwide from Colombia is coffee, with many variations and flavors. In Colombia, you will find many kinds of dance, such as salsa, merengue, cumbia, etc …
Moving to Colombia with Orlando International Moving
Moving to Colombia and don't know where to start? Don't worry you have landed to the right place, at Orlando International Moving we have all the answers to your questions and all the services that you'll need.
Before choosing which moving company will make your moving to Colombia, conduct a search for moving companies. Make sure they have experience in international moving.
At Orlando International Moving we assign you a personalized assistant who will advise you during the entire move. It will inform you about all the steps that are taken in the move to provide a complete moving service that will generate the peace of mind you desire. When you move to Colombia with us you can rest easy, we have helped many families with their moves to Colombia, mainly to cities such as Bogotá, Medellín, Cartagena, Barranquilla, among others.
Among the main benefits you will receive when you move to Colombia with us, you will find:
Extensive experience in moving to Colombia.
Main Headquarters in the United States and Spain.
Extensive network of agents in Colombia and around the world.
Personal assistant specialized in removals to Colombia.
Accessible and competitive rates.
Full packing service from or to Colombia.
Information about the rules and restrictions of Colombia.
Door to door service.
Customs offices.
Rental of short and long term storage in Colombia.